There are a few things you will need in order to sign on with the Educational Access Network. This guide will help you through the process.
Overview
This guide will walk you through the following:
Selecting the Appropriate EAN plan
Creating an Educational Access Network Account
Verifying your address
Selecting your equipment
Review of order
Payment process
Post Order procedure
Procedure
All of our orders take place online at the web address www.nmu.edu/ean. If you are not able to order online we would be more than happy to help you in person at our Marquette office located in Suite 501 of the Cohodas building on Northern Michigan University's campus.
Selecting your EAN Plan
Going to our main website, you will see the View Our Plans button on the front of the page (figure 1). Selecting that will give you three option: Community, Alumni & Veterans, and Affiliate. Choose the plan that is appropriate for you by clicking on Select This Plan. (figure 2)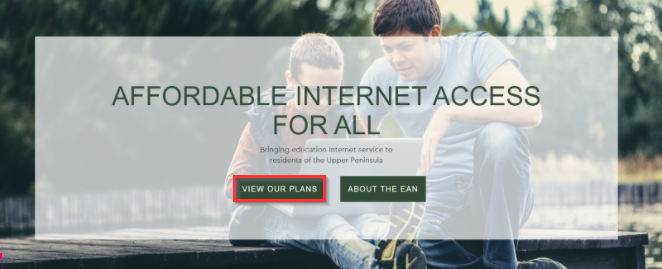 figure 1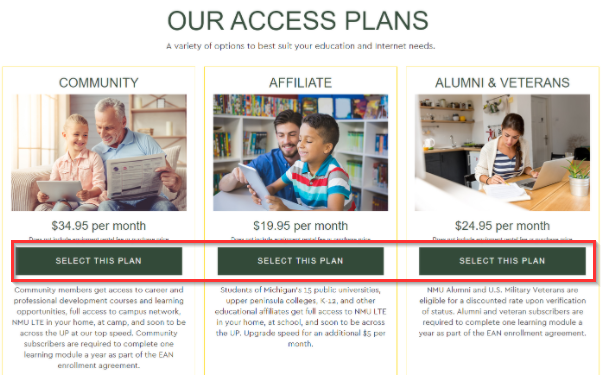 figure 2
Creating your Educational Access Network Account
Once you select your plan, you will see some great information about the Educational Access Network along with two options in green: Create a new Educational Access Network User ID and Login with your Educational Access Network account (figure 3). Click on Create a new Educational Access Network User ID to get started.



figure 3
You will be brought to a message labeled Request Network User Account. Click Next to be brought to a form to fill out (figure 4). Please include accurate information about your physical location, a current working email address, and other provided information to create your account, then click Submit.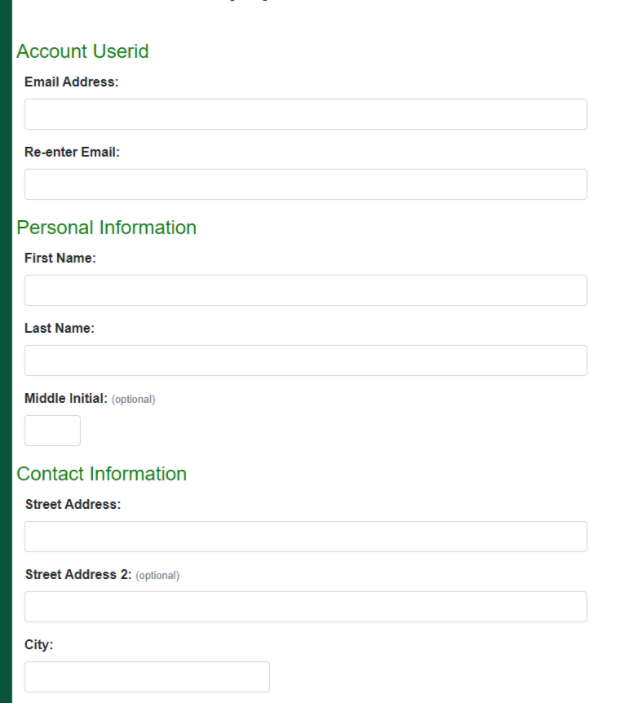 figure 4
Now, create a unique password following the guidelines indicated on the screen. To keep it secure, you will need at least one number, one special character, and a minimum of 8 characters. Once you complete your password and confirm it, click submit to continue.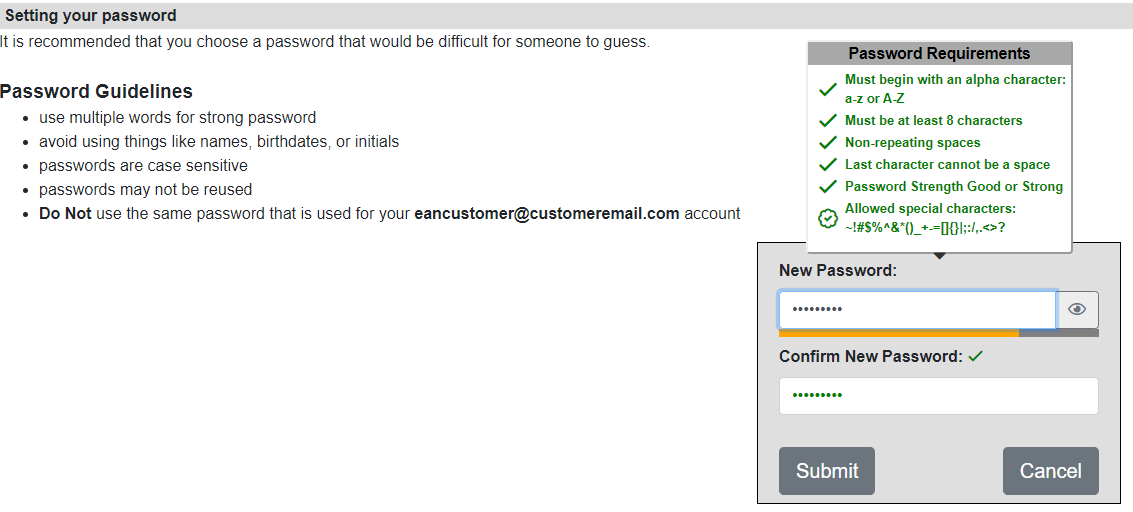 You will be brought to an email verification page (figure 5a). Use a different browser or another device to check your email for a message with the subject NMU User Account Verification for a verification code, then click on Confirm Now within the email (figure 5b). Your account will become verified.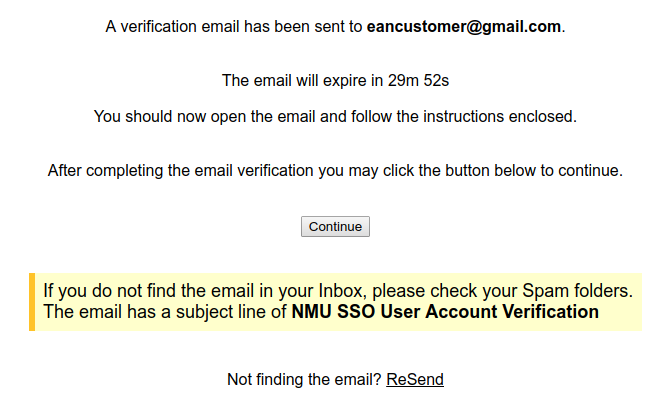 figure 5a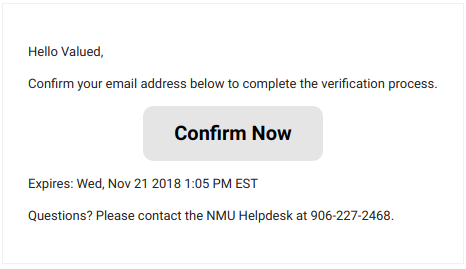 figure 5b
Next, go back to the verification page and click on Continue (figure 5a). You will see a notification saying your verification is complete (figure 5c). Click Continue to proceed.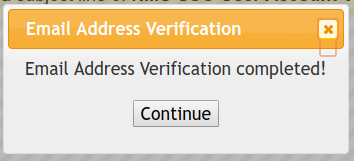 figure 5c
Now, click on the green button that says Educational Partners to continue on with your order.

Selecting your Educational Access Network Plan
If you selected Alumni & Veteran or Affiliate plan, skip this step.
If you selected the community member plan, you will be prompted to select your plan package: EAN Access, EAN Access with Network, or Global Campus Student. Review these options and select the appropriate one for you (community member internet access selection is EAN Access with Network for $34.95/month under the EAN Elite button).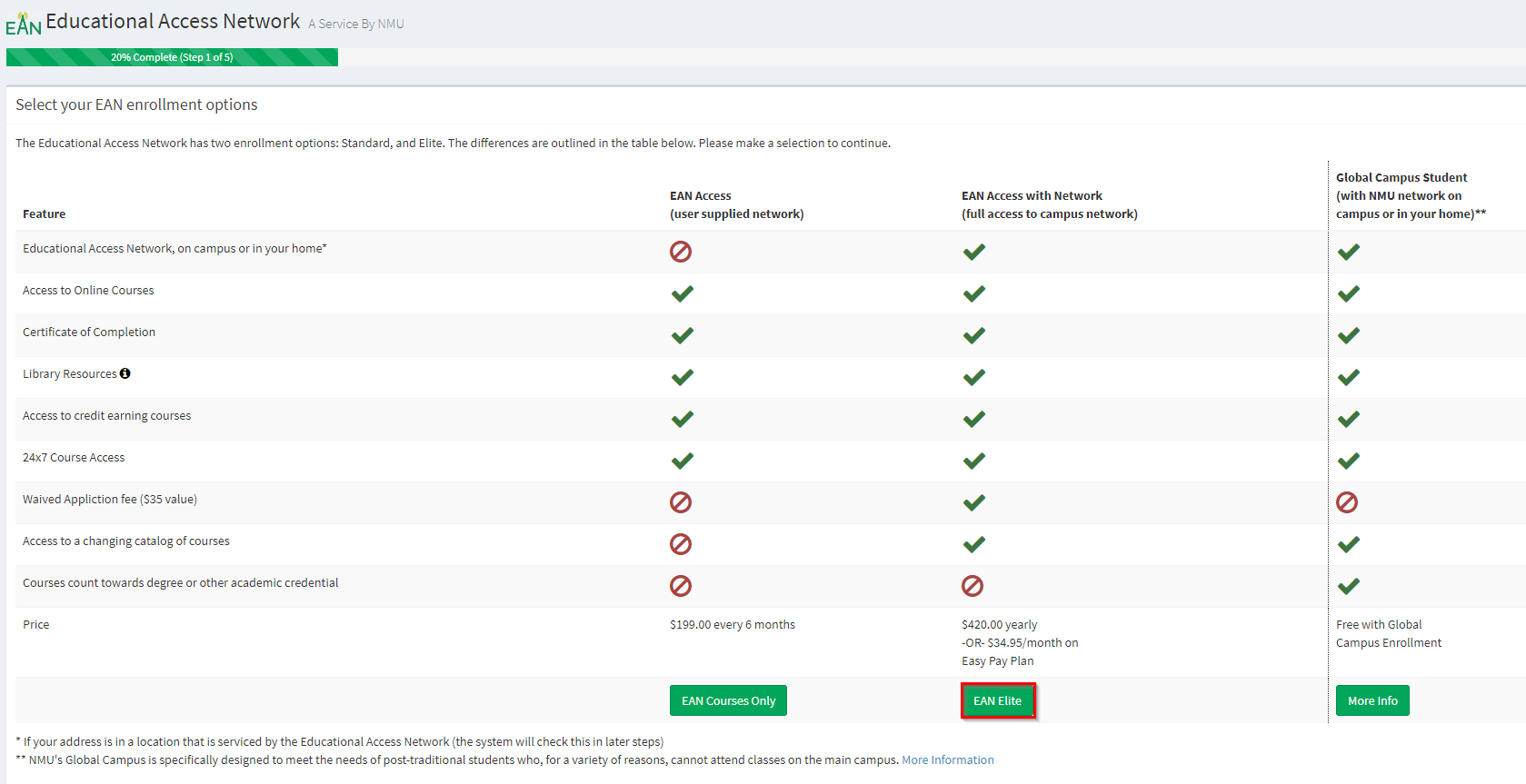 Verifying your address
You will see a page that has your address filled in from the form earlier. This address should be the physical location where your internet will be. Verify your address then click Next. The site will then verify your address, discover how close you are to the nearest tower, and recommend a piece of equipment for you.
Selecting your LTE Equipment
Depending on your location, you will have a number of options to choose from for LTE devices (figure 6) The options highlighted in green are the recommended based on physical closeness to the tower. You can get detailed information about each device and our setup guides on our Equipment Overview page. Select the circular button, choose either the lease fee ($5/month charged annually) or purchase outright option, then click Next.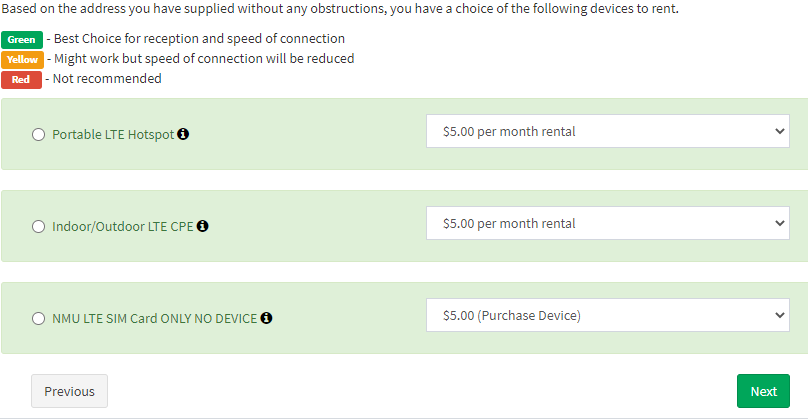 Education Partner Verification
If you selected the community member plan, skip this step.
If you selected Alumni & Veteran or Affiliate plan, you will be prompted to acknowledge that you are affiliated with an Educational Partner or a guardian of a child attending an Educational institution. (figure 7) Checkmark the box if you agree and click on the drop-down menu to select what affiliation you are (school name, NMU Alumni, or Veteran Rate). Click Verify Educational Affiliation to continue.

Equipment Pickup and Terms of Use
We have 2 options for obtaining your equipment: Shipped to your door via UPS ground (additional $15 fee) or Pick up on NMU Campus (no additional charge). Select your option and click Next if prompted. Otherwise, verify your order information, review the Terms of Use, then click Accept Terms & Make Payment if you agree.
Payment process
Verify your order cost, fill out the forms provided, verify your information, then click Pay Now.
NOTE: Please ensure the billing information provided matches the billing information tied to the credit or debit card used in the payment information. This information may not match your physical location or service location.
When the payment is submitted and accepted with no errors, you will be brought to an order confirmation page. At this time we will receive your order and prepare your equipment!

After your order is placed
We estimate 1 business day to complete the provisioning of equipment and orders. After we provision your equipment, we will give you a call when it is ready to pick up, or before we ship it out!
If you have any questions, please contact us at 1(888)458-8668 or Submit a Request.